At Longley Park, we have a dedicated Wellbeing Space where you can access support from our Wellbeing Team whenever you need it. In this space you can access the drop in service, 1-1 support sessions or just take time out. The Wellbeing Team can also refer you for further support with a specialist counsellor.
You might use this space if...
You would like support with the emotional side of adjusting to sixth form life
There are issues which are affecting your studies
Things are happening in your life outside of Longley Park and you would like to learn some strategies to deal with them
You are dealing with a specific mental health issue such as anxiety or depression
You're having a bad day and would just like someone to talk to
It is normal and natural to experience things in our lives which mean we need some extra support. Feeling healthy and happy at Longley Park is integral to your success in your studies.
To ensure we can offer the right kind of support to meet your needs the Wellbeing Team also work closely with other services such as Sheffield Young Carers, Door 43, SAYiT and The Corner. The Wellbeing Space is in room G05 towards the bottom of the Art Corridor on the ground floor.
Claire-Marie Bath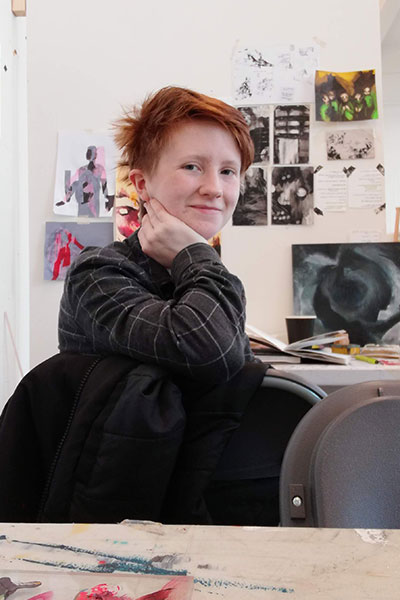 "I joined Longley Park after a break from education. From the start, Longley Park staff were overwhelmingly helpful, working with me to create study aims that challenged me, but with support to make these challenges manageable.
I studied A-levels in Art, Maths and Religious Studies. My time at Longley Park motivated me to apply for university, which I was unsure about after my break from education. Having had the support of staff members such as Vicky Bark and the G05 team, and the enjoyment of studying subjects taught by teachers that cared (in particular Ian Boardman, Alison Dennis, Rob Barker and Sharon Faulkner), alongside Debate trips to St Andrew's and Oxford.
I am now in my second year at the University of Edinburgh, studying BA(Hons) Intermedia. Longley Park helped me to have the confidence to pursue an art degree, that was encouraged by the Career Ready mentorship at a gallery space, again through the sixth form. My visit up to Edinburgh with the Debate team introduced me to both the city and the university, and the support throughout my university application by staff at Longley Park, in particular by Ian, encouraged me to apply for a place at such a good university. I am now thoroughly enjoying my main art course, alongside electives in other subjects related to my A-Level in Religious Studies.
While I feel I am only at the beginning of my 'career path', Longley Park has definitely shaped where I am looking to. I am considering roles in social media/brand representation that stemmed from being a Brand Ambassador for Longley Park, but the Career Ready mentoring helped me visualise myself as a working artist within a studio collective. Or perhaps I will continue my studies into a Masters degree, and maybe go into teaching or research.
Longley Park genuinely helped me get back onto my feet, both in an academic and a holistic sense, and I feel a lot of warmth and gratitude towards the sixth form itself, and the staff I worked with while studying."